La ville haute / The high city / Die hochgebaute Stadt
1977
Description / Description / Beschreibung

Gravure originale, eau-forte, titrée, signée et datée au crayon par l'artiste. Edition de l'artiste.
Original etching, titled, signed and dated in pencil by the artist. Edition by the artist.

Originale Radierung, vom Künstler mit Bleistift betitelt, signiert und datiert. Eigenverlag.
Couleurs / Colors / Farben

Brun, bleu foncé
Brown, dark blue
Braun, schwarzblau
Tirage / Edition / Auflage

Quelques rares épreuves
Few rare proofs
Einige seltene Exemplare
Papier / Paper / Papier

BFK Rives
Dimensions de l'illustration / Size of the Illustration / Grösse der Abbildung

51,5 x 36,3 cm
Dimensions de la feuille / Size of the sheet / Grösse des Blattes

64,5 x 49,7 cm
Référence / Reference / Referenz

Das druckgraphische Werk n°173
Nb. d'épreuve(s) présentée(s) / Number of proof(s) on display / Nummer von Exemplar(e) Vorgestellt(e)

1 épreuve, justifiée « Epreuve d'artiste B ».
Commentaires / Comments / Kommentars

* Cette épreuve fait partie de la Collection R. Schaper.
* Ecrit de Claire Bonnafé devant l'épreuve exposée lors de la rétrospective posthume (12 janvier-25 février 1979) au Musée de Kassel :
Très loin sur le toit du monde, la ville abandonnée, jamais découverte.
* Le dessin d'étude de cette gravure, présenté ci-dessous, fait parti de la Donation Nora Platiel au Musée de Kassel en 1979.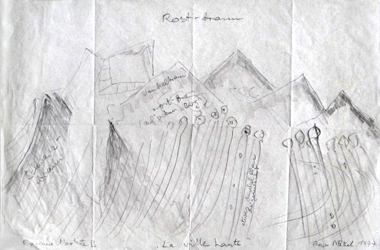 Matrice

non